Housing
Milk snakes require a wooden vivarium as their enclosure. This is because wood is an excellent insulator of heat and so a wooden vivarium will make it easier to control the crucial temperatures required inside the habitat. Other enclosures such as glass terrariums are far too efficient at releasing heat. The wooden vivarium should have good ventilation to allow air flow in and out of the enclosure.

The milk snake's vivarium should be at least 860mm (34") in length. There are 2 main reasons for this; firstly milk snakes are not small reptiles and can easily grow to 1200mm in length. They require a proportionate amount of space to live happily. Secondly, the vivarium needs to have a sufficient length to allow for the creation of a temperature gradient. The enclosure needs to be warm at one end, but have enough distance for the temperature to drop at the cool end.
Buy Vivariums
Heating
During the day, milk snakes require a warm basking area . This is achieved by using a clear spot bulb at one end of the vivarium. To accomplish the required basking temperature of 85oF- 90oF we use one 40w basking light in a 3ft enclosure.

At night milk snakes require a slight drop in temperature and total darkness. The basking light should be switched off. A night time temperature of 80oF is created by using a heat mat. These radiate heat but produce no light. The heat mat should always be controlled by a good quality thermostat. The thermostat will automatically turn heat mat on at night when the temperature in the vivarium drops. Temperatures should be monitored daily using a thermometer.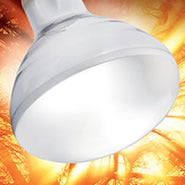 Buy Basking Bulbs
Popular Products For This Pet